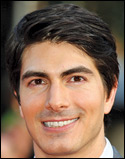 This morning, trade publication
Variety
published an important article on how Brandon's character Wyatt on the upcoming CBS comedy
PARTNERS
(
Facebook
|
Twitter
) and other gay characters in the upcoming TV season are helping to pave the way towards the inevitable acceptance of the LGBT (Lesbian Gay Bisexual Transgender) community. You may recall he previously played gay characters on COLD CASE and WILL & GRACE.
The entire article follows below for those without a Variety subscription:
While TV's influence is sometimes exaggerated by cultural scolds, it's hard to debate the medium's role in gradually facilitating greater acceptance of gays and lesbians -- so much so that Vice President Joe Biden gave "Will and Grace" an honorable mention for shifting attitudes.

Those decades in the Senate probably prevented Biden from keeping fully abreast of primetime, since he could just as easily have cited a half-dozen other series, including "Ellen" and "thirtysomething."

This fall's TV schedule brings another easy-to-overlook historical signpost, with Brandon Routh playing the gay co-lead's dreamy boyfriend in "Partners," a new CBS sitcom from the creators of "Will and Grace."

So what's the significance? Only how unremarkable -- and for the most part unremarked upon -- that bit of casting news has been.

Because Routh -- who starred in "Superman Returns," a 2006 reboot of the movies starring Christopher Reeve -- is again walking in his predecessor's boots. Thirty years ago, Reeve interrupted his stint as the Man of Steel to co-star in "Deathtrap," director Sidney Lumet's adaptation of Ira Levin's play. The role became a source of controversy, however, when the movie's big reveal involved Reeves' character being gay, including a rather demure onscreen kiss with Michael Caine.

At the time, there were reports of shocked patrons walking out of the theater. Far from being viewed as an act of courage, Reeve's choice was seen as a miscalculation at best, or foolishly overcompensating to avoid the typecasting fate that befell TV Superman George Reeves.

Whatever insinuations Batman and Robin have inspired through the years (dating back to the feverish imagination of psychologist Fredric Wertham in the 1950s), Superman has largely remained an icon of heterosexual virility, what with the whole "truth, justice and the American way" thing.

Obviously, there's precedent for actors playing superheroes and still branching out into edgier material (including Hugh Jackman's stage foray as Peter Allen in "The Boy From Oz"), but the question of how audiences respond is hardly closed, and concerns about image and perception have stubbornly lingered. In a 2010 interview with the Advocate, Richard Chamberlain said he "wouldn't advise a gay leading man-type actor to come out," citing the persistence of homophobia.

So for those looking for additional signs of progress, Routh's manager, Stew Strunk, relayed through the actor's publicist that there was "never a thought or a conversation that was had" about the "Partners" role limiting his client's options.

As news accounts have noted in the context of gay marriage, the gay rights struggle isn't so much a question of if but when, given the more tolerant attitudes of younger people. And if there's one advantage to an entertainment culture obsessed with youth, it's that the generation whose views kept Chamberlain's sexuality locked away until 2003 -- when "The Thorn Birds" and "The Bourne Identity" star was past leading-man roles -- is less relevant than they remain at the ballot box.

That's one of several factors allowing Hollywood to lead on the issue as opposed to merely following; another is the increasingly fragmented media landscape.

Programmers are no longer quite so wedded to the belief that all programs must appeal to everybody, especially if they attract coveted younger demos. So when a blog comment recently suggested NBC's "Smash" owed its marginal ratings to "homosexuality and same-sex kissing" turning off "Midwest and heartland viewers," that misses how even a major-network show can survive without those apt to be offended.

To put matters in perspective, even if the gay/lesbian/bisexual/transgender community equals only about 4% of the U.S. population -- as estimated by a 2011 UCLA study -- that still exceeds the average primetime audience this season for every network except CBS.

Programs like "Smash" and "Glee" -- and soon "Partners" and "The New Normal," Ryan Murphy's upcoming NBC sitcom about a gay couple and the surrogate birthing their child -- invariably stand on the shoulders of what's come before and pave the way for what's next. And try as they might, nobody can spin the globe backwards and turn back time.

Change obviously can't come fast enough to satisfy everyone, but each step underscores the inevitable, until even future Supermen won't need to consider professional repercussions when they or their characters come out of something other than a phone booth.
#PARTNERSCBS